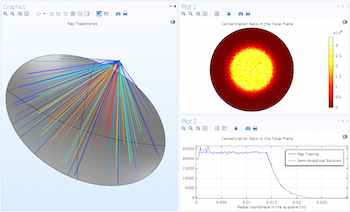 A paraboloidal solar dish can focus solar radiation onto a small target or cavity receiver. Because solar energy is collected over a large area, the incident heat flux at the receiver is extremely high. This thermal energy can then be converted to electrical energy or used to produce a chemical energy source, such as hydrogen. Today, we discuss strategies for computing the distribution of heat flux in the focal plane of a typical solar dish concentrator/receiver system.
Read More
---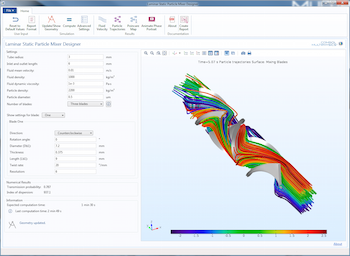 Static mixers are well-established tools in a wide variety of engineering disciplines due to their efficiency, low cost, ease of installation, and minimal maintenance requirements. When evaluating whether a mixer can be used for a certain purpose, it is important to determine whether the resulting mixture is sufficiently uniform. In this blog post, we will discuss the setup of an app designed to quantitatively and qualitatively analyze the performance of a static mixer using the Particle Tracing Module.
Read More
---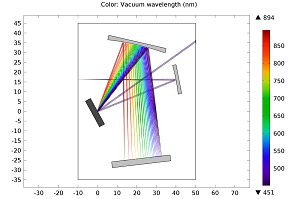 Optical devices such as monochromators and spectrometers can be used to separate polychromatic, or multi-colored, light into separate colors. These devices have many applications in diverse areas that range from chemistry to astronomy. Using built-in tools in the Ray Optics Module, it is possible to model the separation of electromagnetic rays at different frequencies with a monochromator or spectrometer as well as analyze the resolution of such devices.
Read More
---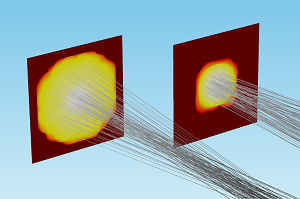 Almost all media absorb electromagnetic radiation to some extent. In high-powered laser focusing systems, a medium such as a glass lens may absorb enough energy from the laser to heat up significantly, resulting in thermal deformation and changing the material's refractive index. These perturbations, in turn, can change the way the laser propagates. With the Ray Optics Module, it is possible to create a fully self-consistent model of laser propagation that includes thermal and structural effects.
Read More
---