COMSOL Certified with Autodesk Inventor 2013
COMSOL continues to support Autodesk Inventor® software through its increasingly popular LiveLink™ for Inventor® product and by certifying it for the latest version – Autodesk Inventor 2013.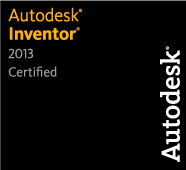 The LiveLink™ for Inventor® is an integrated bidirectional interface between Autodesk Inventor and COMSOL Multiphysics. It streamlines the workflow between design and simulation while automating the process for design analysis and optimization.
The LiveLink for Inventor includes the Parasolid geometry kernel, which enables powerful repair and defeaturing tools. With this, it delivers a seamless integration of 3D CAD and simulation. By establishing an associative connection, a change of a feature in your CAD model automatically updates the geometry in COMSOL Multiphysics, while retaining model settings. All parameters specified in the Inventor model can be interactively linked with your simulation. This enables multiphysics simulation involving parametric sweeps and optimization of your Inventor designs directly from within COMSOL Multiphysics.
We at COMSOL are happy to support Autodesk and their Inventor and AutoCAD® products. Two of COMSOL's developers were attendees at Autodesk University 2011 to learn the latest and mingle with their peers. This rewarding experience can now be accessed by everybody as the latest classes from Autodesk University 2011 have just been released.

Autodesk, Autodesk Inventor, AutoCAD and Inventor are registered trademarks or trademarks of Autodesk, Inc., in the USA and other countries. Neither LiveLink for Inventor nor LiveLink for AutoCAD is affiliated with, endorsed by, sponsored by, or supported by Autodesk, Inc., and/or its affiliates and/or subsidiaries.
---
---
|
© 2017 by COMSOL Inc. All rights reserved