Computational Nanophotonics:
Modeling and Applications
Sarhan M. Musa
This reference offers tools for engineers, scientists, biologists, and others working with the computational techniques of nanophotonics. It introduces the key concepts of computational methods in a manner that is easily digestible for newcomers to the field. The book also examines future applications of nanophotonics in the technical industry and covers new developments and interdisciplinary research in engineering, science, and medicine. It provides an overview of the key computational nanophotonics and describes the technologies with an emphasis on how they work and their key benefits.
Features:
Explains the technical methods as an approximate numerical approach for studying computational nanophotonics
Explores new developments and interdisciplinary research in engineering, science, and medicine using computational nanophotonics
Covers business applications and commercialization in nanophotonics as well as future directions, opportunities, and challenges
Guides readers to compute nanowaveguides, nanotubes, nanowire, nanofibers, nanoparticles, quantum dots, low-dimensional nanostructures, and nanofabrication techniques
Discusses the computational methods in nanophotonics in all areas of technology
About the Author
Sarhan M. Musa received his PhD in electrical engineering from City University of New York, New York. He is currently an associate professor in the Department of Engineering Technology at Prairie View A&M University, Texas. He has been director of Prairie View Networking Academy, Texas, since 2004. Dr. Musa was a visiting professor in the Department of Electrical and Computer Engineering and also worked in the Nanoelectronic Systems Laboratory at Rice University, Texas. His research interests include computational methods in nanotechnology, computer communication networks, and numerical modeling of electromagnetic systems. He has published more than 100 papers in peer-reviewed journals and conferences. He is the editor of Computational Nanotechnology modeling and Applications with MATLAB. In addition, he is co-authored of the Applied Circuit Analysis and Computer Communication for Metropolitan and Wide Area Networks books. He currently serves on the Editorial Board of Journal of Modern Applied Science. He is a senior member of the Institute of Electrical and Electronics Engineers (IEEE). He is also a 2010 Boeing Welliver Fellow.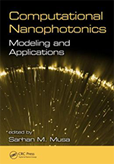 Purchase this book