Modellazione numerica con COMSOL Multiphysics 4.3a: applicazioni di scambio termico
Stefano Lazzari
Le elevate prestazioni di calcolo raggiunte oggi da workstation e personal computer rendono possibile la modellazione numerica di problemi fisici anche molto complessi, sia per le equazioni e le condizioni al contorno che ne descrivono il comportamento, sia per la geometria che ne costituisce il campo di definizione. Questo "approccio numerico" è ormai ampiamente diffuso sia in ambito industriale sia in campo accademico e si basa spesso sull'utilizzo di programmi commerciali. Tra i software di maggiore diffusione vi è sicuramente COMSOL Multiphysics, il quale consente la modellazione numerica di un campo molto vasto di problemi e ha uno dei propri punti di forza nella possibilità di aggiungere al proprio modello, con flessibilità, qualunque effetto fisico si ritenga rilevante. Questo libro mostra l'uso di COMSOL Multiphysics, nella sua più recente versione 4.3a (aggiornata nel mese di Dicembre 2012), attraverso la descrizione dettagliata della modellazione numerica di alcuni problemi di scambio termico. Il libro, il primo in lingua italiana sull'argomento, può costituire un'utile lettura sia per chi si avvicina al software per la prima volta sia per chi, proveniendo da versioni precedenti del software o da ambiti applicativi diversi dallo scambio termico, desidera acquisire una maggiore consapevolezza nella fasi di creazione e implementazione del modello e nella successiva analisi dei risultati.
introduzione al software COMSOL Multiphysics
scambio termico attraverso una finestra
convezione mista con dissipazione viscosa in un condotto verticale
convezione naturale all'interno di una cavità riempita da un mezzo poroso
trasporto di massa e di calore in un condotto che presenta una strozzatura e un tratto riempito da un mezzo poroso
scambio termico in un pavimento a pannelli radianti
heat and mass convective transport
About the Author
Stefano Lazzari si è laureato in Ingegneria Elettrica presso l'Università di Bologna, dove attualmente è Ricercatore nel settore Fisica Tecnica Industriale. Autore di numerosi articoli scientifici su prestigiose riviste internazionali, utilizza COMSOL Multiphysics dal 2003 come strumento di ricerca per lo studio di problemi di scambio termico. Ha riversato in questo libro anche l'esperienza didattica maturate tenendo l'insegnamento "Laboratorio Com putazionale di Termofluidodinamica" per la Laurea Specialistica/Magistrale in Ingegneria Energetica a partire dal 2006, poi confluita anche in un corso specifico relativo a COMSOL Multiphysics per il Dottorato di Ricerca in Ingegneria Energetica, Nucleare e del Controllo Ambientale sempre presso l'Università di Bologna.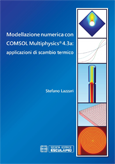 Purchase this book