BE CAE & Test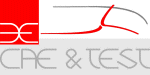 BE CAE & Test provides consultancy services for applications based on numerical simulations. Virtual prototyping is of great importance in several engineering fields, and provides a powerful tool in optimizing the design of products & processes, while reducing time-to-market.
We strongly believe that complex problems have to be analyzed using a multiphysics approach. Our team of dynamic, motivated and qualified engineers, who gained a wide technical expertise during several years of research in academia and industry, is the key to our success. We choose the COMSOL software as our main modelling tool, and have extensive experience with it.
BE CAE & Test offers support and assistance to those professionals and enterprises aimed at analyzing complex problems related to their technical activities.
Fields of Activity
Our main areas of expertise include:
Fluid-dynamics (laminar, turbulent and two-phase flow)
Heat transfer (conduction, convection and radiation analysis)
Reacting flows (transport-diffusion analysis and combustion)
Structural mechanics (static linear and non-linear analysis, modal analysis and frequency responses analysis)
Multibody system dynamics (kinematics and dynamics of mechanical systems)
Address & Contact Information
BE CAE & Test
Viale Africa, 44
95129 Catania
Italy
+39 095 286 4040
www.be-caetest.it